Hu Yue Metal products Co., Ltd

Xinfeng

Town, Jiaxing City,Zhejiang,314005

Axles for wheelie bins, refuse bins

North American, South American, Europe
| | | | | | | |
| --- | --- | --- | --- | --- | --- | --- |
|   | Administration | Production | QC | Technique | Business | Total |
| Employee | 3 | 15 | 2 | 3 | 2 | 25 |
Hu Yue Metal products is located in Xinfeng town of Jiaxing, which is called the village of metalwork. Jiaxing is in the east of China, with about half million population and long history of metal manufacture.

Our city is in the center of the high way between Shanghai and Hangzhou. From Shanghai Pudong airport to Jiaxing is around 100 km and it will take about 1.5 hours by car , the same if you go from Hangzhou. For more information, please refer to the map below.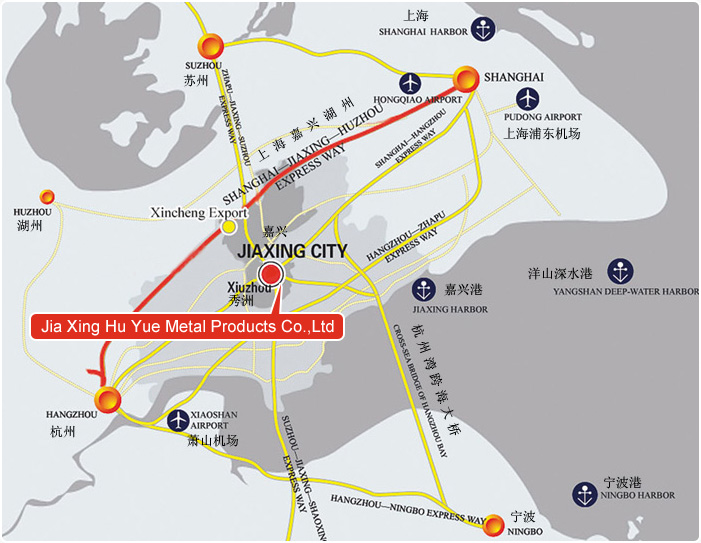 Jia Xing Hu Yue Metal Products Co.,Ltd located in Xin Feng Town, Jiaxing city, in side of Hangzhou Bay Cross-sea Bridge. Our factory is conveniently situated among Shanghai, (100km East) Hangzhou (100km West) and Suzhou(80km North) ,Travel to any of these cities is simple and convenient.
Since established in 2006, Hu Yue(Tiger Leap instead below ) is committed to the development and production of all kinds of axles, in particular, the axles of wheelie bins. By performing a series of development programs and ongoing innovation, Tiger Leap has its own proprietary technologies and products, say exquisite hollow axles. This axles not only overcome the traditional difficulties in process of galvanization, but achieved the same with the appearance of a solid axis, exactly the same performance, therefore can completely replace the solid axle. This greatly contributes to save the materials costs and freight costs for our customers, simultaneously makes our products more competitive.
Tiger Leap has also designed and introduced advanced production equipment, so that the production of the hollow axles fully automated. This effectively increased the company's production capacity, avoids the problems caused by manual operation, and is a strong guarantee of the consistency of product quality. Tiger Leap pioneers the production and use of the hollow axis with the whole entire pipe, with 3 million pieces capacity of axles annually. It has become the most professional and leading manufacturer of axles of wheelie bin in China.
In recent years, we have been providing goods for clients from the United States and Canada, and established friendly cooperation relations with them. We look forward to obtaining more extensive cooperation with more importers and distributors from all over the world.